Healthwatch Surrey volunteer receives award for 'outstanding' work
4th October 2019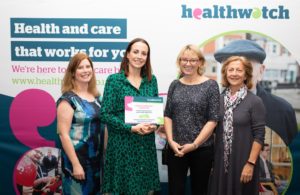 We are pleased to announce our volunteer Liz Sawyer has been recognised as highly commended in the 'Outstanding individuals who've made a difference' category at the 2019 Healthwatch Network Awards.
Liz has been helping us to champion improvements in sexual health services in Surrey and with Liz's help we'll continue to monitor feedback and work with commissioners to drive improvements to services.
Liz says: "My involvement with sexual health services over the last 2 years has shown how Healthwatch can amplify patients' needs and experiences in a way which truly influences commissioners and service providers. And, as I volunteer with Healthwatch I can really make a difference to services I care passionately about."
To find out more about our work on sexual health services, click here.