Healthwatch and Frimley Health and Care ICS Long Term Plan Survey 2019
Frimley Health and Care Integrated Care System (ICS) is a group of organisations (hospital trusts, GPS and Local Authorities), working together to provide the local population with a joined-up health, care and wellbeing system.
In January 2019, the NHS Long Term Plan was published, and in April 2019 Healthwatch England published a survey for your feedback. Now your local Healthwatch services, coordinated by Healthwatch Bracknell Forest, are supporting Frimley Health and Care ICS to find out what is important to you and your family so that your views can help to shape local plans, helping you to receive the right care at the right time in the right place.
The survey will take approximately 10-15 minutes to complete and closes on 30th May 2019. The feedback from this survey will be shared, anonymously, with local health and care services and a report, prepared by Healthwatch, will be made available on the ICS and Healthwatch website in July 2019
Click Here to view the full consultation and our other consultations.
---
Do you receive paid-for care at home or know someone who does?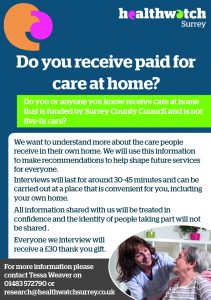 We would like to find out whether people receiving care at home have a voice. We're currently gathering experiences from paid carers and feedback from people who receive paid-for care in their own home.
We're especially interested in people who receive daily visits and people whose care is funded by Surrey County Council (SCC).
   

We'd like to have a 30-45 minute chat, ideally in your own home, with one of our experienced and DBS checked staff.

    

If you can't talk to us yourself then we're happy to talk to a partner, family member or whoever is most closely involved with your care.

  

All information shared with us will be anonymised.

  

Everyone we interview will receive a £30 thank you gift
If you receive paid-for care at home and would like to share your experiences or feedback (good or bad), please get in touch with us. If you know someone receiving paid-for care in their own home who might be interested in sharing their experiences, please let us know
Email:
research@healthwatchsurrey.co.uk
Phone: 01483 572 790
---
Commissioner response to our report 'How to help...: exploring how mental health services can support emotional wellbeing'
In November 2018, we received a detailed response to our report from Surrey Mental Health CCG Collaboratives and Surrey County Council, the commissioners of mental health services for Surrey. The commissioners thanked Healthwatch Surrey for our report, "It is always valuable to receive independent reports so we can be well informed and take action on the issues that are important to people."  To view the full report, click here.
---
Care at Home Phase 1 Report
Healthwatch Surrey has set out to answer the question 'In Surrey, do Domiciliary Care Users have a voice?'. During phase one of our project, we spoke to 13 care agencies, asking them about their compliments, complaints and comments procedures. From this, we have reported many key findings and raised some important questions that we will be looking into in phase two of the project. To view the Phase 1 report, please click here.
---