Information, advice and support
You can contact us for information and advice on health and social care in Surrey by contacting our Helpdesk to speak to one of our trained, independent advisors.
For further support on NHS issues, you can contact our independent advocacy service who can guide and support you through the NHS complaints procedure.
---
We're hiring!
We're recruiting an Intelligence Officer and a Business Development Officer to join our team!
The Business Development Officer is a key commercial role, essential to the future success and sustainability of Healthwatch Surrey. As a successful candidate you will take the lead in identifying new business opportunities, in line with our strategy to ensure people are at the centre of the services they receive, and their voices are heard. Working closely with the rest of our team, you will develop proposals, pitch and win business, and co-ordinate the delivery of projects for clients.
The Intelligence Officer will be responsible for analysing and using our evidence and insight to ensure maximum influence when working with stakeholders, to improve health and social care services across Surrey, in line with the Surrey Health and Wellbeing Strategy. Senior Healthwatch Surrey staff and volunteers attend many high-level meetings across the system as the champion of patients and service users. Your job will be to ensure they are well briefed and have the evidence at their fingertips to do a great job on behalf of local people.
For more information, please visit the 'work with us' page on our website.
---
'Can you hear me?' - Care at Home report

 

As part of Healthwatch Surrey's strategic 3-year priorities, we initiated our 'Care at Home' project to ask the question "Do care at home users have an effective voice?" Findings from the report have been shared with commissioners at Surrey County Council.
A copy of the report is available here.
---
Healthwatch Surrey Annual Report 2018-19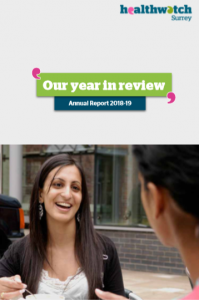 We are delighted to share our Annual Report 2018-19. Find out about the work we've done throughout the year to raise awareness of health and social care issues that matter to people in Surrey.
You can download a copy of the report here.
A plain text version of the report can be found here.
If you would like a copy the report in an alternative format please contact us.
---
Healthwatch Surrey volunteer receives award for 'outstanding' work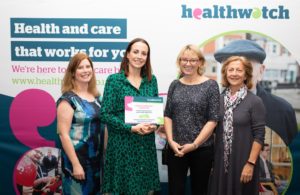 We are delighted to announce our volunteer Liz Sawyer has been recognised as highly commended in the 'Outstanding individuals who've made a difference' category at the 2019 Healthwatch Network Awards.
Liz has been helping us to champion improvements in sexual health services in Surrey and with Liz's help we will continue to monitor feedback and work with commissioners to drive improvements to services.
Liz says: "my involvement with sexual health services over the last 2 years has shown how Healthwatch can amplify patients' needs and experiences in a way which truly influences commissioners and service providers. And, as I volunteer with Healthwatch I can really make a difference to services I care passionately about."
Click here to find out more about our work on sexual health services.
---
We're looking for volunteers in East Surrey and Surrey Downs - can you help?
We're looking for Community Listener and Community Promoter volunteers in the Reigate and Banstead, Tandridge, Mole Valley, and Epsom and Ewell boroughs.
If you, or someone you know, live in any of these boroughs and would like to help us ensure local people have a say on how health and social care services are run in your area, please get in touch.
To find out more about volunteering with us, visit our volunteer page.
---