Do you receive paid-for care at home or know someone who does?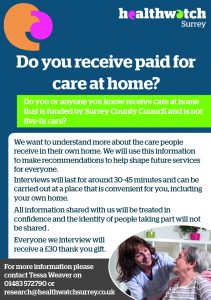 We would like to find out whether people receiving care at home have a voice. We're currently gathering experiences from paid carers and feedback from people who receive paid-for care in their own home.
We're especially interested in people who receive daily visits and people whose care is funded by Surrey County Council (SCC).
   

We'd like to have a 30-45 minute chat, ideally in your own home, with one of our experienced and DBS checked staff.

    

If you can't talk to us yourself then we're happy to talk to a partner, family member or whoever is most closely involved with your care.

  

All information shared with us will be anonymised.

  

Everyone we interview will receive a £30 thank you gift
If you receive paid-for care at home and would like to share your experiences or feedback (good or bad), please get in touch with us. If you know someone receiving paid-for care in their own home who might be interested in sharing their experiences, please let us know
Email:
research@healthwatchsurrey.co.uk
Phone: 01483 572 790
---
Join our thriving team of VOLUNTEERS!
We are currently recruiting for volunteers across Surrey to help us ensure local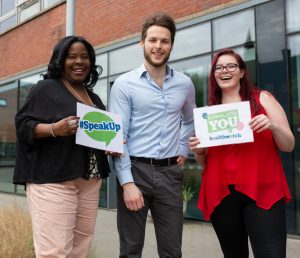 people have a say in how health and social care services are run. Current volunteering opportunities:
Community Listeners
Community Promoters
Community Influencers
We're looking for volunteers who are:
Interested in health and social care.
Keen to ensure people in their community can have a say in how health and social care services are run.
Outgoing, good listeners and enjoy talking to people.
You don't need experience in health or social care, as long as you have an interest and meet the criteria above you can find out more and apply here
We look forward to hearing from you!
---
We're hiring for a Data & Administration Officer (to cover maternity leave) 
Do you have experience in database entry and monitioring, are you able to analyse data and prepare reports? Are you organised, friendly and able to carry out administration tasks? Are you looking for a new challenge that involves working in a fun and flexible team? If so, we would love to hear from you. You can read more about the role here
---
Commissioner response to our report 'How to help...: exploring how mental health services can support emotional wellbeing'
In November 2018, we received a detailed response to our report from Surrey Mental Health CCG Collaboratives and Surrey County Council, the commissioners of mental health services for Surrey. The commissioners thanked Healthwatch Surrey for our report, "It is always valuable to receive independent reports so we can be well informed and take action on the issues that are important to people."  To view the full report, click here.
---
Care at Home Phase 1 Report
Healthwatch Surrey has set out to answer the question 'In Surrey, do Domiciliary Care Users have a voice?'. During phase one of our project, we spoke to 13 care agencies, asking them about their compliments, complaints and comments procedures. From this, we have reported many key findings and raised some important questions that we will be looking into in phase two of the project. To view the Phase 1 report, please click here.
---