Have you had your first COVID-19 vaccination?
With second vaccinations starting soon for some people in Surrey, we would like to hear what questions you have, to help ensure you get the information you need.
What do you want to know before your 2nd vaccination? Let us know by completing our short survey. All responses to this survey are anonymous and you can also complete it on behalf of someone you care for.
If you haven't had your first vaccination yet but would like to share your experience of local health or social care services, we would love to hear your feedback, good or bad! Just complete our feedback form.
---
We would like to hear your feedback on health and social care services!
If you have an experience to share with us on a local health or social care service, please get in touch.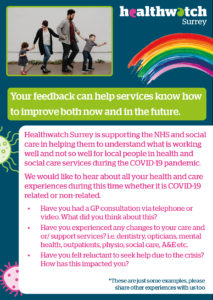 ---
Information on Coronavirus (COVID-19)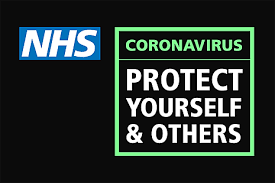 For the latest information and advice on symptoms, risks and getting treatment, please visit the NHS England website or Public Health England website. An easy read version has been produced by Easy-Read-Online based on advice from Public Health England. We have a dedicated Coronavirus page providing details of help & support services in Surrey including our Helpdesk, local voluntary and community groups, Surrey Police etc. We have also have details on changes to health and care services in Surrey during the COVID-19 pandemic here.
---
Reporting What We've Heard 
One of the statutory duties of healthwatch is to obtain the views of local people regarding their needs for, and experiences of, local care services and importantly, to make these views known. During the pandemic we have been asked by the government and the NHS to continue to gather feedback, and to use our experience in egagement to ensure that seldom-heard groups are not overlooked locally.
We are producing reports to summarise key themes and findings from what we've heard and the reports can be found here.
---
Engagement events cancelled until further notice
We have been monitoring the rapidly unfolding situation around COVID-19 (Coronavirus) on a daily basis to consider its impact on how we work and how we best support our staff and volunteers. We have also taken note of Government communications on social distancing to protect the elderly and vulnerable members of the public. Therefore, we have made the decision to cancel all face-to-face engagement events until further notice.
Our Helpdesk is still available to help with enquiries and signposting. You can call 0303 303 0023, text 07952 787533 or email enquiries@healthwatchsurrey.co.uk.
We will continue to communicate information about Coronavirus from trusted sources on our website and across our social media channels. We will also look at how we can work more closely with local voluntary groups to support our community during this difficult time.
---
Information, advice and support 
You can contact us for information and advice on health and social care in Surrey by contacting our Helpdesk to speak to one of our trained, independent advisors.
For further support on NHS issues, you can contact our independent advocacy service who can guide and support you through the NHS complaints procedure. Please note that during the COVID-19 pandemic this service will continue but there may be implications in terms of response time.
---
Healthwatch Surrey Annual Report 2019-2020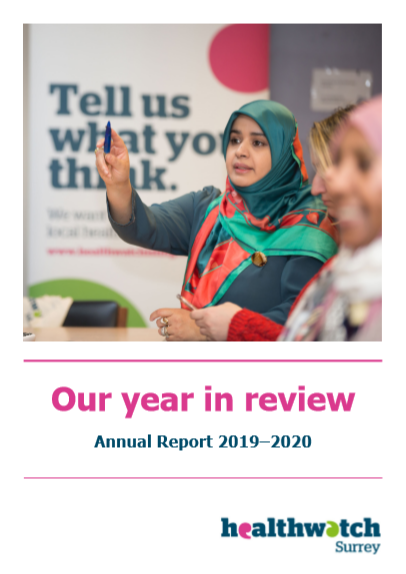 We are delighted to share our Annual Report 2019-20. Find out about the work we've done throughout the year to raise awareness of health and social care issues that matter to people in Surrey.
You can download a copy of the report here.
A plain text version of the report is available here.
If you would like a copy the report in an alternative format please contact us.
---
Healthwatch Surrey volunteers highly commended in national awards
Healthwatch Surrey's volunteers have been recognised in a prestigious national awards scheme for helping to improve the way a local NHS hospital reports incidents that have led to severe harm or death.
Our volunteers John, Jenny and Gareth were highly commended for the 'Celebrating our volunteer team' award, which was announced at the Healthwatch Awards 2020. This virtual event run by Healthwatch England, celebrated the difference Healthwatch's 4,400 staff and volunteers made over the past year. Healthwatch Surrey was one of only four local Healthwatch to be highly commended in this category, out of a total of 152 across England.
Commenting on the recognition, Healthwatch Surrey CEO, Kate Scribbins said: "We're delighted to receive this award and very proud to be able to celebrate the invaluable contribution of our volunteers. Much of our work at Healthwatch Surrey is supported by our amazing volunteer team so it is wonderful to have their hard work and dedication recognised."
Sir Robert Francis QC, Chair of Healthwatch England, said: "I never stop being inspired by the dedication of local Healthwatch staff to making care better for their communities. Whether reaching out those whose views are not being heard, helping people to find the support they need or making sure NHS and social care services act on the improvements that the public want to see, the award entries highlight the difference local Healthwatch make."
Local Healthwatch across England support people to provide feedback on health and care and to access advice and information about local services. Many local Healthwatch have also played an integral role in their communities during the Covid-19 pandemic.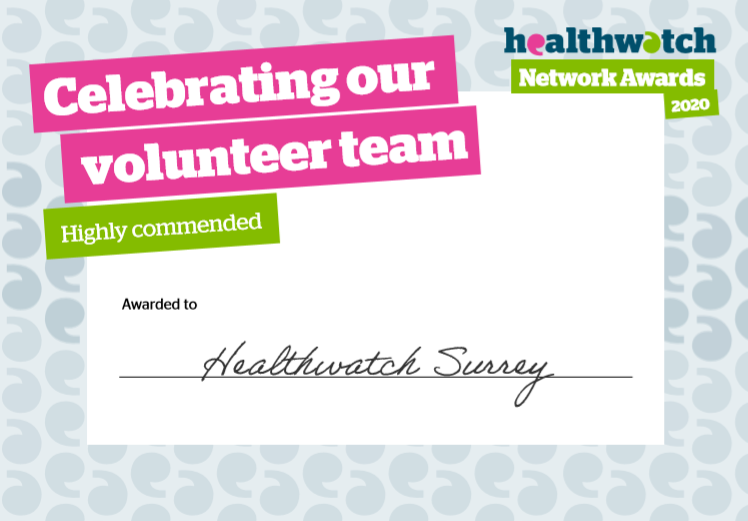 ---
We're looking for volunteers in East Surrey and Surrey Downs - can you help?
We're looking for Community Listener and Community Promoter volunteers in the Reigate and Banstead, Tandridge, Mole Valley, and Epsom and Ewell boroughs.
If you, or someone you know, live in any of these boroughs and would like to help us ensure local people have a say on how health and social care services are run in your area, please get in touch.
To find out more about volunteering with us, visit our volunteer page.
---