Meet Kate
15th June 2020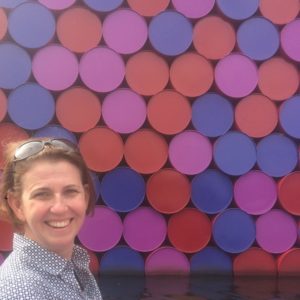 Having left a busy corporate job to be around more for my family, 18 months ago I wanted to find some volunteering that blended my knowledge and interest in healthcare and social inequalities, while flexing around my availability. And as I'm considering retraining as a qualitative researcher at some point, I was also keen to gain some first-hand fieldwork experience.
It's been great being able to use my healthcare knowledge positively and I've also enjoyed the variety of people you get to meet and hear from, whether it's people visiting their GP, those attending a long-awaited hospital appointment or people dealing with ongoing issues linked to a particular health condition.
There are some bread and butter parts of being a volunteer such as staffing Healthwatch Surrey's listening events at numerous venues, which means setting up the display stand, encouraging passers-by to stop and talk about their health and social care experiences, and writing this up accurately while they tell you their story. Some people have never been asked to give their perspective before, and you find that many are happy to open up and share their thoughts in some detail. We also get our teeth into desk research, for example, by checking what information and services are available online; finding and analysing different organisations' policies; or looking at how health and social care services locally involve their patients and carers.
But there's also scope for more variety – I've helped out at a focus group for carers of people with ADHD; managed survey completion at a group supporting people with substance misuse; and sought new ways to hear from people who are homeless or living in poverty. It can be upsetting to hear a bad experience and frustrating when 'the system' has let someone down. But at least it has been heard and can be acted upon.  There are also times when I hear from people who are delighted with their care – that's lovely for HWS to be able to pass on as part of their ongoing relationship with services.
I really like the fact that we record experiences in people's own words as these cannot be ignored – you're not imposing your interpretation. And if we hear about a really serious issue, that's prioritised for discussion and could trigger a more in-depth investigation to see if there could be a wider problem with a service.
I love how I'm trusted to get on with the job in hand. While I can always ask for guidance, I am given the independence and autonomy to come up with ideas and to suggest different ways of doing things.
If you have a passion for improving health and social care and a desire to meet and listen to people, you'll enjoy it. You'll also be well supported when you join – Volunteer Officer Zoe and Admin Support Officer Wendy do a great job at making sure you have everything you need for an event or meeting, and your expenses are covered. Zoe also takes the time to look out for opportunities she thinks you will be interested in and suitable for. When you're not in paid work it's really great to have someone who values your contribution to and impact on Healthwatch Surrey's outcomes.