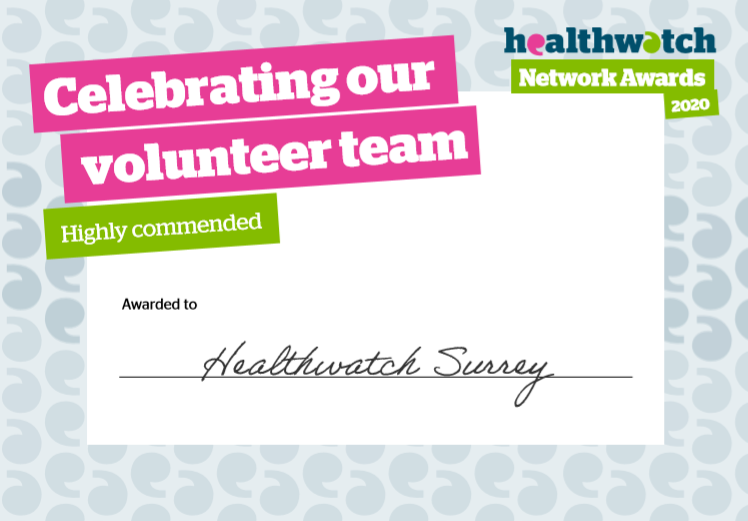 Healthwatch Surrey Volunteers Highly Commended In National Awards
23rd November 2020
Healthwatch Surrey's volunteers have been recognised in a prestigious national awards scheme for helping to improve the way a local NHS hospital reports incidents that have led to severe harm or death.
Our volunteers John, Jenny and Gareth were highly commended for the 'Celebrating our volunteer team' award, which was announced at the Healthwatch Awards 2020. This virtual event run by Healthwatch England, celebrated the difference Healthwatch's 4,400 staff and volunteers made over the past year. Healthwatch Surrey was one of only four local Healthwatch to be highly commended in this category, out of a total of 152 across England.
Commenting on the recognition, Healthwatch Surrey CEO, Kate Scribbins said: "We're delighted to receive this award and very proud to be able to celebrate the invaluable contribution of our volunteers. Much of our work at Healthwatch Surrey is supported by our amazing volunteer team so it is wonderful to have their hard work and dedication recognised."
Sir Robert Francis QC, Chair of Healthwatch England, said: "I never stop being inspired by the dedication of local Healthwatch staff to making care better for their communities. Whether reaching out those whose views are not being heard, helping people to find the support they need or making sure NHS and social care services act on the improvements that the public want to see, the award entries highlight the difference local Healthwatch make."
Local Healthwatch across England support people to provide feedback on health and care and to access advice and information about local services. Many local Healthwatch have also played an integral role in their communities during the Covid-19 pandemic.