Digital information flow vital for better delivery of health and social care
21st January 2019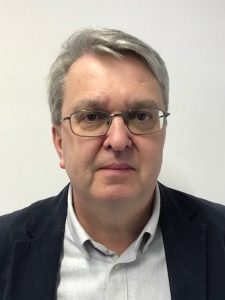 My name is Lawrence Nichols and I am the Citizen Ambassador working with the Surrey Heartlands Digital programme.  My previous working life has been spent in IT providing financial services, and so when I started in February this year the NHS was new to me.  Getting my so-far superficial understanding of the landscape has proven to be interesting and at times confusing.  The expectations of the scale and pace of change are so high that any attempt to get a full understanding is unrealistic.  Fortunately, my role as a Citizen Ambassador is not about understanding but is to provide a lay perspective and to make sure that projects and programmes never lose sight of the needs of the citizen.
When we think about our interactions with health services we are aware of the increasing role played by high-tech machines – scanners, monitors and all manner of equipment.  This is tangible and easy to appreciate, but the importance of information to the efficient provision of consistent, high quality healthcare is less obvious.  It is hard to think of any health issue that is cured by a digital service, but it is much easier to point to areas of weakness associated with poor information flows.  The Digital programme of work is about improving the way information flows across all areas of health and social care, both between clinical professionals and to and from the patient.
The top priority for the Digital workstream is to pull together patient records from the various sources so that they can be shared across professionals and specialisms, with all relevant data available to clinical staff and being immediately updated and stored electronically.  Under any circumstances this would be a large and complex task, but to make a bit more of a challenge the fact that all the participating organisations (GPs, acute hospitals etc.) don't start from the same point or with compatible technologies compounds the complexity.
From a patient perspective the benefits of a truly joined-up health service are huge and something that we need to have in place as soon as possible.  Each benefit scenario may be individually small, but the compound effect will be to provide a step-change in responsiveness and consistency of treatment.  For example, the GP record of treatment and medication will be accessible to the specialist along with test results and background information – saving time, avoiding misunderstandings, fewer repeated questions.
Being a Citizen Ambassador for Digital is rather different from the other workstreams, as the services are new it is often not possible to get feedback on experiences.  On the other hand, we now all have a perception of digital services from banking, on-line shopping, holiday booking or whatever.  I have worked with the project that is delivering an on-line GP consultation service.  From observing a Focus Group on this subject it is clear that a simple initial description of a digital service results in widely different perceptions and it took considerable further explanation to get a shared understanding.  Many people will never like the idea of on-line consultations, but some people will find it very valuable and it will be vital to make sure that the communication at launch sets the right expectations and sends the right messages.
It is not my role to tell the NHS in Surrey Heartlands what they should do or how they should do it, but on occasions observing progress can be frustrating.  It has been hard for me to develop a comprehensive view of plans and milestones and how the individual projects relate to each other.  Individual organisations all seem to have active programmes of work which relate to the Digital Programme and staff are very busy, but the dependencies between activities are not transparent.  A consequence of this is that changes which may impact the public could be developed and implemented without the chance for relevant citizen input at the most appropriate point.
Another frustration is the pace of change.  I fully recognise the efforts everyone is making and the complexity of the changes required, but it can be frustrating when progress feels limited by available resources.  The Digital programme is about a generational change in NHS information technology and trying to achieve this with less than adequate resource will just make that more difficult.
From the citizen's perspective I think it would look like the expectations for public engagement and involvement in projects are not consistently planned.  Programmes recognise the need for input from the public, and Surrey Heartlands is working hard to involve people, but the timing and methods of engagement aren't always consistent across every programme.  On the plus side, I do get the chance to raise these issues within the Digital programmes and I am in a position to try to make sure that the legitimate interests of the public are sought and properly considered.
Digital technology is a high priority for NHS England and the landscape is moving dramatically.  The more digitally connected part of the population would see the NHS as being slow to take advantage of new technology, but supporting health services is not the same as on-line betting or getting your shopping delivered.  Data underpins all NHS treatments and the digital transformation now underway will determine the quality of services we will all receive in the future.  I am very proud to have a very small role in helping to shape these services.