We've moved offices, thanks to AnyVan Magic Moves!
23rd May 2018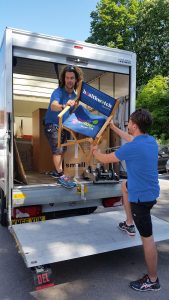 Last Thursday saw the first office move for the Healthwatch Surrey team in 4 years and boy have we acquired "stuff". Its great stuff, very useful stuff, but stuff that there was no chance that we could transport alone.
And then, out of the morning mists came the magnificent Magic Van and two friendly guys ready to load and transport our very useful stuff.
Within an hour, and countless trips up and down the stairs, we were ready for a short drive to our new office in the centre of Guildford. The guys were just as quick at unloading – only stopping for a moment to pose for this photo and take a few swigs of coffee.
So, thank you Magic Van! You are fantastic and we could not recommend you enough. So, if you know a community organisation or good cause that could benefit from their help, get in touch, the most it will cost is a cup of coffee
Magic Van is an initiative from AnyVan that offers free moves to charities and community organisations.
To find out more about AnyVan's Magic Van visit their blog here.