#Safelyhome – What happens when people leave hospital or care settings?
23rd July 2015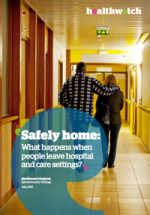 A new report launched by Healthwatch England – 'Safely Home: What happens when people leave hospitals and care settings?' – brings together 3,230 stories and pieces of evidence, gathered by 101 local Healthwatch from across the country, revealing both the human and financial cost of getting the discharge process wrong.
The report identifies a number of common basic failings including hospitals not routinely asking patients if they have a home or safe place to be discharged to, details of new medications not being passed on to GPs and carers, and families not being notified when loved ones are discharged. Many of the problems stem from organisations failing to think beyond their own direct responsibilities, with discharge plans often not considering patients' other clinical needs or home environment, including whether or not patients themselves have carer responsibilities.
In 2014 the National Audit Office (NAO) reported that in the space of a year the NHS deals with one million emergency readmissions within 30 days of discharge, costing an estimated £2.4 billion.
Whilst not all of these cases are the result of a poorly managed discharge, Healthwatch England's patient-led investigation found that 17 per cent of those being readmitted for the same issue in the past three years are returning to hospital within just seven days, suggesting a significant problem with the current process. (Those readmitted within a month account for an additional 9% of readmissions). This is by no means a new problem, but this report highlights the human consequence of unsafe discharge and outlines the potential for saving millions of pounds by getting discharge right first time.
The report describes some excellent examples of discharge being managed well, proving that the challenges of working across service boundaries can be resolved. But there is considerable variation up and down the country and a need for the good practice to be spread.
Healthwatch England's call to everyone in health and social care is to not just hear what these 3,000 plus voices have to say, but to take action and devise a collective plan to tackle this issue and track progress.
A first step was taken late last week when Healthwatch England and the Department of Health brought together all those organisations with an interest in getting this right in the future. Healthwatch England will be working with local Healthwatch to ensure the discharge process is put at the top of agenda locally as services work towards greater integration.
Five areas where the health and social care system is getting it wrong
Focusing on those most affected by poorly managed discharge processes – those with mental health conditions, older people and homeless people – the report reveals five ways patients and care users say they are currently being let down by the system:
1. People are experiencing unsafe, delayed or untimely discharge due to a lack of co-ordination between health, social care and community services. A young mother was kept in hospital and away from her daughter extensively because an agreement could not be reached between health and social care services on the funding of her care.
2. There is a lack of support available for people after discharge, often leading to readmission. An 81-year-old man who had suffered his third, severe stroke was discharged from hospital at 10:30pm by taxi, without anyone from his family being notified. He was readmitted with severe health problems the following week.
3. Many people feel discriminated against or stigmatised during their care, often feeling 'rushed out the door'. A homeless man reported that he felt that the perceptions of staff regarding his homelessness meant he was repeatedly discharged as quickly as possible, ending up back on the street with persistent health problems and no support for his recovery.
4. People do not feel involved in decisions about their ongoing care post discharge. One woman told of the shocking story of her husband being discharged after a suicide attempt, despite his repeated pleas to stay because he did not feel able to cope. No follow-up care was offered upon discharge; he committed suicide the following week.
5. Individuals' full range of needs are not considered when being discharged from hospital or a mental health setting – including their housing situation, carer responsibilities etc. One woman told how she was discharged with no care plan for herself and no additional support to help with care for her husband who has Alzheimer's.
What people said they want when they are discharged from a hospital or care setting
1. To be treated with dignity, compassion and respect.
2. For their needs and circumstances to be considered as a whole – not just their presenting symptoms.
3. To be involved in decisions about their treatment and discharge.
4. To move smoothly from hospital to onward support available in the community.
5. To be properly informed about where to go for help after discharge.
Downloads
 Healthwatch England Special Inquiry: Safely Home
 Safely Home large print version