Report: What makes a successful PPG?
28th November 2016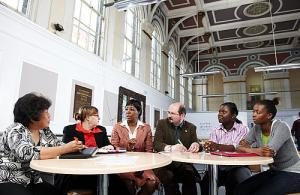 This year, Healthwatch Surrey have been working with Patient Participation Groups (PPGs) across Surrey to find out how PPGs are working in practice and to dig deeper about what makes an effective PPG.
As part of this work, five volunteers attended 12 PPG meetings to gather information from the PPGs regarding;
What works well
Areas that need improvement
Or areas PPGs they specifically need help with e.g. member recruitment/social media.
The report, available to download below, collates the feedback and identifies common themes and best practice.
Whats next?
There will be a briefing and workshop held in December with volunteers involved in the project. In this meeting, we will look at the findings so far and discuss what Healthwatch might be able to produce or deliver to help PPGs communicate and raise awareness with their patient populations. We will also discuss how we can work with PPGs to continue to raise awareness of Healthwatch Surrey across the county.
Downloads
 PPG Fact Finder Analysis November 2016 PDF (795 KB)