Endometriosis UK calls for shorter diagnosis times
27th February 2015
It's OK to talk. Period.
Endometriosis Awareness Week 2nd – 9th March 2015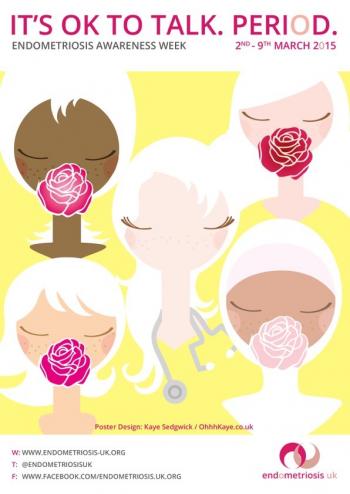 Endometriosis UK is highlighting delays in diagnosis of endometriosis* and is calling for this to be addressed to ensure better health outcomes for women affected by the condition.
The Diagnosis Survey 2015 by Endometriosis UK revealed that almost 50% of women diagnosed with endometriosis saw their GP more than 5 times before being referred to a specialist and 1 in 5 women waits more than 4 years to get a formal diagnosis of endometriosis by laparoscopy.
Endometriosis is the second most common gynaecological condition affecting 1 in 10 women in the UK. Symptoms include severe pain during or between periods, long, heavy and irregular periods, painful bowel movements, pain in the bladder and pain during or after sex. Fertility may also be affected and extreme fatigue is common.
There is no cure.  However, the condition is manageable and timely diagnosis could save women from many years of living in constant pain and ensure better health outcomes.
Endometriosis UK has five recommendations to improve services for women with endometriosis:
More information on treatment options should be available to women with endometriosis.
GPs need better access to information about endometriosis so they can recognise the symptoms at the first consultation and provide women with better support.
Referrals to specialists and BSGE Endometriosis Centres should be offered sooner to women with the condition.
More specialist nurses should be trained in endometriosis.
At least one Endometriosis Specialist Centre should operate in every county in the United Kingdom.
For more information about the work of Endometriosis UK visit www.endometriosis-uk.org
*It currently takes an average of 5.5 years to get a diagnosis.