Citizen Ambassador Blogs – Women and Children's
19th June 2018
I'm Lucy Browne, and I am the Citizen Ambassador for women and children's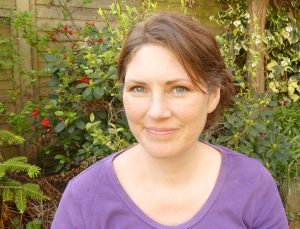 services in Surrey Heartlands. My role is to listen to the experiences and views of local women and their families about the care they receive during the 'First 1,000 days' – this is the period from conception to a child's 2nd birthday – and feed this back to the people at Surrey Heartlands Health and Care Partnership who plan and deliver services. The First 1,000 days is an important focus for Surrey Heartlands, as it links in with the wider determinants of health seen as crucial in influencing health and wellbeing throughout life and provides a vital opportunity to positively influence a child's future.
The team I'm working with have made me very welcome, and this feels like a very positive time to be on board with Surrey Heartlands. As one of the maternity transformation programme early adopters, Surrey Heartlands is carrying out the recommendations laid out in the Better Births report and the women and children's workstream are exploring some innovative ideas. I was excited to be included in the recent launch of the Maternity Advice Line, which gives women 24/7 access to midwifery advice; freeing up community and hospital midwives to focus on patient care, whilst allowing women to ring with a query at a time that suits them.
Similarly, the planned Community Hubs will have extended opening hours to enable women to fit their antenatal care into busy lives, allowing them to access a range of healthcare professionals at one location. A dedicated homebirth team will be providing women with more choice about how and where they want to give birth, and extending the caseloading teams (a model of midwifery care where women see the same midwife or small team of midwives throughout their maternity journey) is part of Surrey Heartland's focus on continuity of care.
I think that Surrey Heartlands are making some great changes, but sometimes there can be a disconnect between what service planners and deliverers intend, and how those services are experienced by patients. I see my role as helping to bridge that gap; to listen to the experiences and opinions of women and their families, and to get those across to the people who are designing and implementing these changes.
In an organisation as large and complex as the NHS, it is an enormous challenge to provide care that is consistent yet tailored to each family's needs. To do that, women must be heard at every stage of their care, from what services they feel would benefit their families, to what support each woman needs in her journey through pregnancy, birth and beyond.
I'm really looking forward to seeing how my role develops over the coming year, I feel passionately about the importance of this work – this is the next generation that we're dealing with here – it doesn't get much more important than that!
---
Lucy Browne is the Citizen Ambassador for women and children's services in Surrey Heartlands.
The Citizen Ambassador role was developed as part of Surrey Heartlands HCP's citizen engagement programme. To ensure that the citizen ambassadors provide a fully independent voice, Surrey Heartlands HCP asked Healthwatch Surrey, a local independent champion for users of health and care services, to recruit and support us. Healthwatch Surrey are experienced in listening to the public's views and concerns about health and social care and are ideally positioned to train and support the citizen ambassadors to give a voice to the people of Surrey who use NHS and Social Care services.
To find out more about the Maternity Transformation Programme, click here