Citizen Ambassador blogs – Out of Hospital
17th October 2018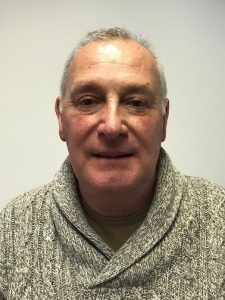 My name is Martin Edge; I have been a Citizen Ambassador for Healthwatch Surrey since the beginning of 2018. I have responsibility for Out of Hospital Care which encompasses Primary, Urgent and Emergency care. This is ideal for me as I had regular contact with the health and social care services in my previous job as a police officer.
Obviously this is a large subject area so I am still very much finding my feet. So far I have been involved with a number of engagement events including at Accident and Emergency at Royal Surrey County Hospital and on Guildford, Epsom and Leatherhead high streets – all under the watchful eye of Sarah Brown, an engagement officer with Healthwatch.
During our visit to the Royal Surrey we visited different parts of A&E, speaking to people about their experiences. Most were very positive. We were made welcome and engaged with a number of parents and children who on the whole were positive about their health service experience.
The town centre engagement events in Guildford, Epsom and Leatherhead were varied. Guildford was quite busy with loads of people happy to talk to us or just put a green disk in one of our boxes representing five areas within the health service where they had experience positive or negative. Epsom was less busy. Leatherhead was initially a disappointment. But by the end of the morning things improved so we obtained some useful information.
Another positive experience was a visit to HMP Coldingley where prison Governor James Adamson treated us to a guided tour. After the tour we had presentations about prison healthcare, highlighting the problems for both staff and inmates.
There are significant issues in relation to inmates attending medical appointments in hospitals, not least the lack of prison staff. Cancellations are not a rare occurrence.
Without doubt the best part of the day was hearing from Gareth and Martin, two inmates who gave their perspective on prison healthcare. It was interesting how Gareth and Martin helped their fellow inmates in relation to physical and mental health issues. Both are clearly held in high regard by their peers and staff alike.
It was enlightening to become aware of the significant hurdles they face.
By the end of the visit I felt reassured that certainly the staff at Coldingley and their health service colleagues were keen to make changes to improve health care within the prison environment.
Visits to the hospitals have been a mixed bag. Staff have on the whole been welcoming but there has sometimes been some confusion as to why I'm there and what I'm doing. This has impacted on my ability to do what I'm there to do, namely speak to patients and learn about their experiences.
Most recently I observed a focus group event at St Peter's Hospital. Eight volunteers responded to questions or prompts in relation to Out of Hospital care and resources. It was interesting to hear how diverse their experiences had been; some were extremely happy with their GP surgery others were completely the reverse. One example that has stuck with me was from one gentleman who stated that the only way to get an appointment was to be at the surgery at 6.30am!
That conversation highlighted several negative issues including but not limited to the length of time waiting for an ambulance, the lack of hospital beds and the time taken from diagnoses to treatment. Having said that there were also some very positive examples given particularly in relation to the quality of care after admission. The aftercare once the person had been discharged appeared to be more fragmented with some people experiencing a really good service and some a very poor one.
Since I started my role as Citizen Ambassador I have come to realise more acutely the need for me to challenge those who manage NHS services and question whether the health and social care available is as good as it could be. It's important that I give both the positive but also the negative feedback so the system can improve; share what is good and help people understand how they might start to think about changing what is not.