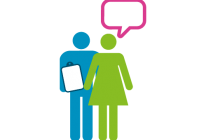 Care homes significantly improve their activities for residents following Healthwatch Surrey report
13th June 2017
As care homes across Surrey open for National Care Home Open Day (Friday 16th June), the local health and care champion has been encouraged by the positive response to their recent report criticising the lack of meaningful activities for elderly care home residents. 
Of 93 service providers that responded to the Healthwatch 'My Way, Every Day' report:
79 (85%) reviewed their activity provision to make sure that people can participate in activities in a flexible way that overcomes health limitations (e.g. physical disabilities or dementia) particularly as needs fluctuate or change.
66 (71%) reviewed their recruitment processes, induction planning and job specifications to ensure that 'meaningful activities' are an integrated part of the care worker's job role.
71 (76%) explored ways in which family, friends and volunteers can take a greater role in supporting meaningful activities, building on current practice.
Matthew Parris, Evidence and Insight Manager at Healthwatch Surrey said: "Not only have Surrey County Council and care homes throughout Surrey recognised the significance of this often overlooked area, they have made commitments to improve".
"This is a fantastic example of how we can amplify the voices of local people to help bring about positive change".
Surrey County Council have committed to investigating the extent to which residents in small homes (less than 20 residents), without activity coordinators, participate in activities. More will also be done to share best practice between providers and the council will review their approach to evaluating provision of meaningful activities.
The Healthwatch Surrey report, which documented the findings from 25 volunteer-led visits to care homes across the county, highlighted inconsistencies in how activities were provided for residents.
One example was of a man with dementia and physical disabilities who said he liked watching Question Time but didn't get to watch it in the home, because the staff had not understood his needs and wishes, nor had they been able to fulfil them.
Volunteers also found jigsaw puzzles with missing pieces and knitting needles with no wool.
Matthew continued: "We know care homes are busy places. Staff spend a lot of time looking after their residents which is really important. However, taking part in day to day life, maintaining hobbies, put simply 'doing things', impacts on the quality of life that many of us take for granted".
"Care homes have told us about the improvements they have made. Part of our plans for this year will be to look at visiting care homes to see the changes that have been made and find out more about those services that we've yet to visit or hear much about".
An Impact Report, summarising the responses received from commissioners and care home providers is available on the Healthwatch Surrey website: click here to be taken to the relevant page.
Anyone who has a comment or experience about care homes or other social care or NHS service can contact Healthwatch Surrey on 0303 303 0023 or email enquiries@healthwatchsurrey.co.uk