Hospital Discharge Checklist
23rd March 2018
Checklist set to help Surrey patients leave hospital feeling safe and supported
A new comprehensive 'discharge checklist' has been launched to help patients, their families and carers plan and prepare for leaving hospital, thanks to work by Healthwatch Surrey.
Designed to be used by patients, their families and hospital staff, the easy-to-use checklist will help people request and keep track of the information they should be given in hospital. Topics covered include symptoms to watch out for, changes to medication, help at home and planning for new living environments.
The Royal Surrey County Hospital is an early adopter of the checklist and will be using it with their older patients from next week (27th March 2018).
---
To download a copy of the checklist, click your chosen format below: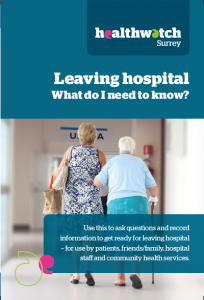 Discharge Checklist LARGE PRINT
To request a printed copy of the checklist, please contact us at enquiries@healthwatchsurrey.co.uk
---
Kate Scribbins, Chief Executive of Healthwatch Surrey said:
"We are delighted that hospitals and local decision makers are recognising the potential benefits of this checklist for patients, their carers and families. Improving communication will reduce the worry and anxiety many people feel in hospital and reduce the likelihood of a patient being readmitted which will help the NHS too."
Clare Tickner, Lead Nurse for Patient Flow and Discharge at Royal Surrey County Hospital NHS Foundation Trust said:
"It's been a really useful experience working alongside Heathwatch Surrey in the development of the discharge checklist.
"We are very excited to be the first to pilot it on our Older Persons Unit and anticipate that it will help patients and their relatives prepare for discharge.
"It's a great tool to prompt questions and make sure that everything is in place before any patient leaves hospital."
Ms Scribbins continued: "We are aiming to make the checklist widely available so that as many people as possible can benefit."
The checklist, entitled: 'Leaving Hospital: What do I need to know?' was developed after a recent report from the local health and care watchdog found that the lack of clear communication is causing worry for patients when planning to leave hospital. The key issues included inadequate plans for transport home, relatives not receiving information about changes to care (e.g. new medication being prescribed) and even a patient being sent home without a house key.
General and Community hospital staff teams (from Royal Surrey and CSH Surrey), patients at the Royal Surrey, volunteers and local charities including Age UK Surrey and Surrey Coalition of Disabled People have all contributed to the development of the checklist, which it is hoped will be adopted by hospitals throughout the county.
A copy of the checklist, together with a summary of the responses received from Hospital Trusts and local commissioners to the report 'Its difficult to know what to ask' is available to download from the Healthwatch Surrey website: hwsurrey.dev.onpressidium.com
Anyone who would like to share their experience of an NHS or social care service can contact Healthwatch Surrey on 0303 303 0023 or email enquiries@healthwatchsurrey.co.uk